What Makes TriVision Different?
We are Machine Vision Pioneers
- Specialized in the Food Industry
TriVision was founded by machine vision pioneers and has automated inspection processes within the food industry for more than 20 years. Their vast experience and expertise within machine vision and the food industry's shop floor conditions are the sources of the deep know-how and capabilities within TriVision today.
At TriVision, we know the power and the pitfalls of machine vision, which is an advanced technology. We have perfected the technology over the years by making it intuitive, reliable, and efficient, meaning we have made it accessible and a great business case for the food industry.
With a pioneering approach, TriVision always pushes the boundaries of the technology, striving for maximizing its application and impact in the food industry by supporting producers in ensuring compliance, food safety, increasing efficiency, reducing waste, and improving sustainability.
We Make Vision Systems
with Real Impact
TriVision systems run in plants worldwide, maximizing production performance and providing a great business case in many ways.
TriVision's solutions are designed to make a real impact in food productions, by ensuring compliance, food safety, reducing QC costs, failure costs, waste and downtime, and by facilitating production optimization.
It is our leading, proven machine vision technology that enables our systems to have a real impact. All have the unique features, traits and benefits of our technology and approach, which we have developed and perfected over the years to make the technology accessible and effectual for the food industry.
Here's How We Do it
Reliable Inspection
TriVision's proven vision technology provides a reliable inspection and failure detection that producers can count on.
We have vast experience within the field and know the pitfalls, and our technology has been developed to handle various natural variations in produced products.
Producers can count on our system's decisions that approved products comply, and that only defective products are rejected.
Intuitive Operation
You might need a PhD to develop our systems, but you don't need one to use them. TriVision systems are made intuitive and user-friendly for operators.
For producers to utilize all features and functionalities daily to ensure compliance and efficient production, it is crucial that the HMI is simple and logically built according to an operator's priorities.
With just a few clicks, operators can e.g., get an overview of production performance, adjust tolerances for quality levels, make changeovers or investigate the errors in defective products.
Intelligent Data Utilization
TriVision systems generate quality data from every produced and inspected product, and we provide efficient cloud-based tools that crunch the data and bring valuable insights.
With elaborate production statistics, producers can plan their next optimization initiative on an informed basis.
Trends can be discovered across production lines, products being produced, shifts, raw materials being used, and various process parameters.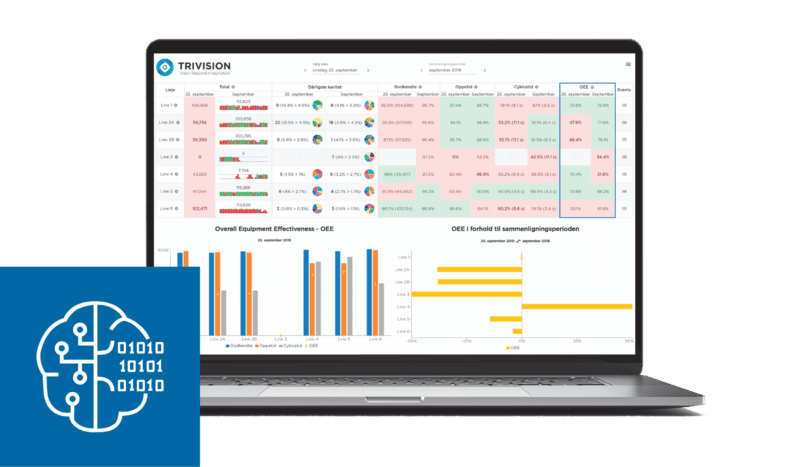 Turnkey Solutions
TriVision develops plug-and-play solutions that provide producers with the benefits of machine vision inspection while removing its complexity.
TriVision systems are developed as turnkey solutions with all necessary mechanics, vision components, and software.
Our systems are designed to save valuable footprint and meet the specific requirements of the food industry.